The winners were Wattpad users @AnaTheRainbowBanana and @PanomiM. Congratulations, girls!
---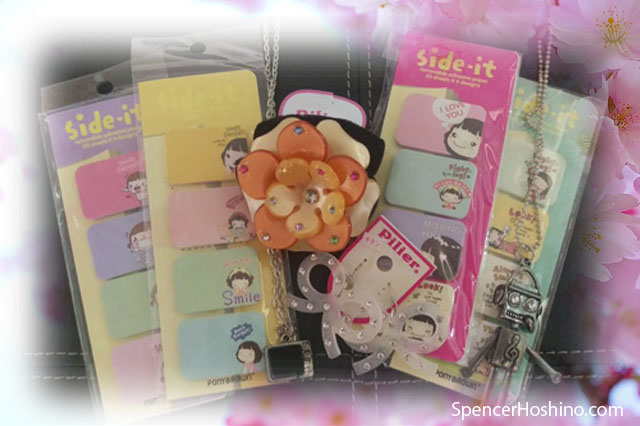 On a whim I decided to hold a giveaway in celebration of Hina Matsuri, or Girl's Day. Is there a better way to celebrate the sisterhood of magical girls than by doing a giveaway on Girl's Day? (Answer: There isn't!)
I posted the following message to my wall on Wattpad and waited for the comments to come in.
Hello, friends!

Today is Hina Matsuri, also known as Girl's Day. In recognition of that and in celebration of our sisterhood, I thought it would be fun to do a spontaneous giveaway! The first two girls (sorry, guys, but it is "Girl's Day" after all!) who comment with what they think will happen in book two will receive the following prizes:

Prize 1: Necklace with robot charm, Pilier Bow earrings (from Japan), two (2) sets of kawaii mini post its

Prize 2: Necklace with TV charm, Pilier hair tie (from Japan), and two (2) sets of kawaii mini post its

http://spencerhoshino.com/wp-content/uploads/2016/03/girls-day-giveaway.jpg

Good luck and I look forward to seeing what your thoughts are. ❤ (Both US and International readers may comment! My only conditions are that you are a girl, because of Girl's Day, and that if you are under 18 years old that you have your parent's permission to enter.)

I'll contact the first two girls who comment by DM on Wattpad. ^_^ Gifts will be given in the same order as the comments (i.e. comment 1 receives prize 1). The winners may swap prizes if they are both in agreement. If you don't win this time around, don't fret! There will be more giveaways in the future because I love you guys. ♡ (˘▽˘>ԅ( ˘⌣˘)
I didn't have to wait long! 😀 The winners were PanomiM and AnaTheRainbowBanana, who shared their interesting theories for book two, Paper Wings. PanomiM said, "I think that in the second book, we'll get to read how The wedding is planned out and goes :3 also, I sense that there might be a new character bent on causing chaos to the lovely engaged couple :3". And, AnaTheRainbowBanana said, "I think the next book will have what @PanomiM said, but also Hikari will be…. noticing people, maybe. And obviously Nox will get jealous and vice versa to keep the excitement going. Maybe it'll also highlight how hard it is to live life… Normally? I guess? Idk if that is the word I would choose, but like life with a person you can't live without and stuff. ALSO, about how Hikari is 'special', hopefully 🙂 I wanna know about her past."
Both girls have been contacted and have replied with their shipping information. ^_^
As I said in my post, if you missed out on this opportunity please don't feel disheartened! I will do another giveaway in the future. ^__^