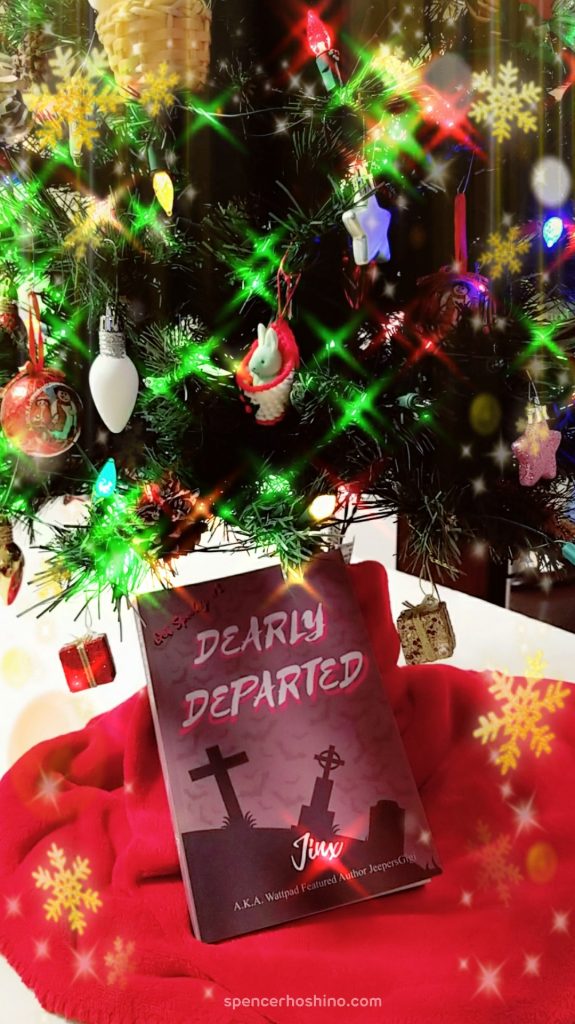 Published: February 19, 2017 (First Edition) | Amazon | Goodreads | Website
A few months ago I reviewed SPOOK, the first novel in the Get Spooky Series, and gave it the maximum rating of 5 Lucky Stars. I recently finished Dearly Departed, the official second book in the series, and loved it just as much. (Author's Note: To clear up any confusion, Ho Ho No was originally published as book #2 but has since been discontinued.) Dearly Departed is a collection of holiday-themed short stories featuring the gang that we've all come to know and love, so I think the timing of this review is pretty great! 😉
Synopsis:
Book Two in the Get Spooky series!

The curse is settled, and now a new problem has come up: the holidays.

And tensions are high.

Ace Montgomery has a girlfriend now, and her name is Daphne Fitz.

Daphne was dead, now she's death. It's an adjustment.

Daphne Fitz has friends, and their names are Chance L. Ford and Harper Davenport.

Chance L. Ford, the cowboy. Harper Davenport the half-werewolf, half-demon, all-sass.

Ace Montgomery has enemies, and their names are Chance L. Ford and Harper Davenport.

Ace and Rakkason want nothing to do with this time of year, yet one of the demons decides to join Spook's Christmas choir. Harper's sass has done nothing but increase, and Chance is starting to look a little shady. Not to mention Blake Grimm has been having Daphne work overtime—though Ace knows there's nothing to be worried about there…right?
Despite being a collection of short stories, Dearly Departed is cohesive. Jinx is a master narrator who finds a way to make things work, so rather than seeming like a one-off or companion novel (Jinx has said that DD should be considered book 1.5 rather than a full-on sequel) it could easily be a novella-length sequel.
Dearly Departed is laugh-out-loud funny. From Daphne bringing cold cuts to the potluck instead of ham to Rakkason signing up for the Christmas—I mean, Cwistmas—choir, you will find yourself smiling and laughing until the very end of the book, at which point, if you're like me, you'll wind up internally screaming and texting the author for answers! (No spoilers here but that ending, though!)
If you're looking for a fun and funny holiday read, look no further than Dearly Departed!