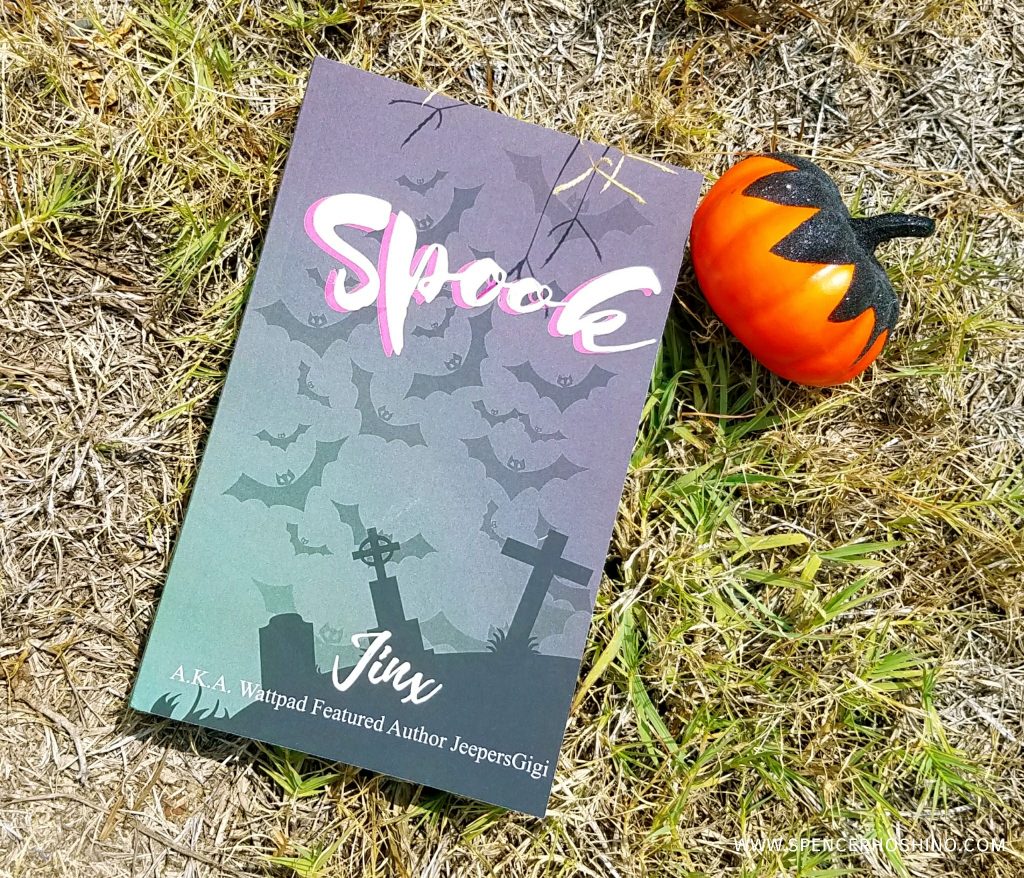 Published: February 14, 2017 (Second Edition) | Amazon | Createspace | Goodreads | Wattpad | Website
SPOOK is the first novel in the Get Spooky series. Spook first gained readership on popular website Wattpad, before author Jinx (@JeepersGigi on Wattpad) posted it to Swoon Reads in hopes of publication. While it was, unfortunately, not one of the chosen few for that round of selected books on Swoon, it became a Wattpad featured book shortly thereafter, which was a huge boon to the book's popularity. (At the time of writing, SPOOK has 209,000 reads on Wattpad!) At the encouragement of her Spookers (formerly known as Ghosties, which was changed due to a plagiarism scandal caused by an unknown Wattpad writer) Jinx self-published her book through Createspace, and the rest, as they say, is history!
Synopsis:
Ace Montgomery is up for a promotion at Hellion, Inc., but he's a bit distracted. Not by being transferred to Spook, or by having to train his apprentice to be a good crossroads demon, or by having only five more months to bargain deals for over two hundred more souls to even qualify for the position. No, he's distracted by the newly dead redhead in town.

Daphne Fitz just died, but she's looking at death as a fresh start. A fresh start that is rudely interrupted by a coven casting a curse over Spook—the town most monsters, and now Daphne, call home. Wanting to be more gutsy in the afterlife, she takes it upon herself to end the curse. Well, she takes it upon herself to tag along with a ghostly cowboy, Chance L. Ford, and an ex-mean girl werewolf, Harper Davenport, who are set on stopping the curse, but that's just a technicality according to Ace—who manages to weasel both himself and his apprentice, Rakkason, into the ragtag gang of heroes in an effort to get closer to Daphne.

The two ghosts, the werewolf, and the two demons embark on a journey ranging from Spook to Indiana and, very literally, Hell and back, working to put an end to the coven's curse, all the while trying not to kill each other in the process—because Ace and Chance go back centuries, Harper has her own hidden history with the demon, Daphne and Ace are trying to keep their blooming relationship a secret, and Daphne is soon to find out that she may be a bit more than a ghost.
The first time I read SPOOK back in 2015, or so. One might even say that I'm a SPOOK superfan–the ultimate Spooker. (Although, I've come across those who would dispute my claim and would declare themselves Spooker #1!) Things have changed in the SPOOK universe (SPOOKiverse) since then. The story has gotten deeper and the mythology even more so. In the second edition of published SPOOK, we find that not only is the storyline more fleshed out but the characters are a lot more developed, too, with stronger personalities and even name changes (although,  you'd really have to be a follower of Jinx's works to notice the smaller differences).
In the second edition, Daphne is still newly-dead. She finds herself in Spook, which is sort of a crossroads between Heaven and Hell. Shortly upon arrival, she is informed, unwittingly, by her ghostly cowboy guide, Chance L. Ford, that normally, the dead get to choose where they go. With that choice having been made for her by person(s) unknown, Daphne decides to make the best out of the situation by using it as a fresh start, hoping to be one of the cool kids, instead of existing just outside the inner circle. (Extra points if you get the reference there!) Early on, Daphne befriends her ghostly guide, Chance L. Ford, and his werewolf girlfriend Harper Davenport. And, much to the chagrin of her new besties, she also befriends the (sort of) new to town demons, Ace Montgomery and Rakkason Triggs.
Not particularly excited about the big move, Ace isn't exactly pleased about having to live in Spook… until he meets a certain redhead, that is! Yup, Ace falls in love with Daphne! I don't want to spoil anything, but their relationship is a breath of fresh air. As they navigate the early stages of dating and a relationship, we get to experience the adorable awkwardness of first love through their eyes. Let's just say, if you think you know demons, you will be pleasantly surprised by Ace's inner turmoil at trying to be the world's best boyfriend. Hehe.
The book itself doesn't focus heavily on romance, although the #Dace (Daphne + Ace) romance is an important subplot which becomes more apparent in SPOOK sequels and side stories. (I told ya, I'm Spooker #1!) Instead, we go on a journey of friendship, learning to love yourself, and defeating an evil curse!  Milly, the b–I mean, witch, who cast the curse is a real jerk, to say the least–she's every mean girl you've ever met in high school. 🙁 The motley crew of friends that Jinx has assembled comes together in spite of (or perhaps, because of) their differences as they attempt to undo the curse and save the town! Of course, as the saying goes, no good deed goes unpunished, but you'll have to buy & read SPOOK to find out exactly what I mean by that! 😉
Rating: 5 lucky stars