It's been a little while since I had a giveaway, hasn't it? With Christmas right around the corner, it seemed like a good time to have one! I wish I could do a bigger giveaway, especially since this is for Christmas, but as many of you know, I left my job this year so my budget has been a little tighter than normal. Still, it wouldn't have felt right to let the holiday pass without doing anything. I hope everyone likes the items I selected for the giveaway! I look forward to your entries! Best of luck, everyone! ❤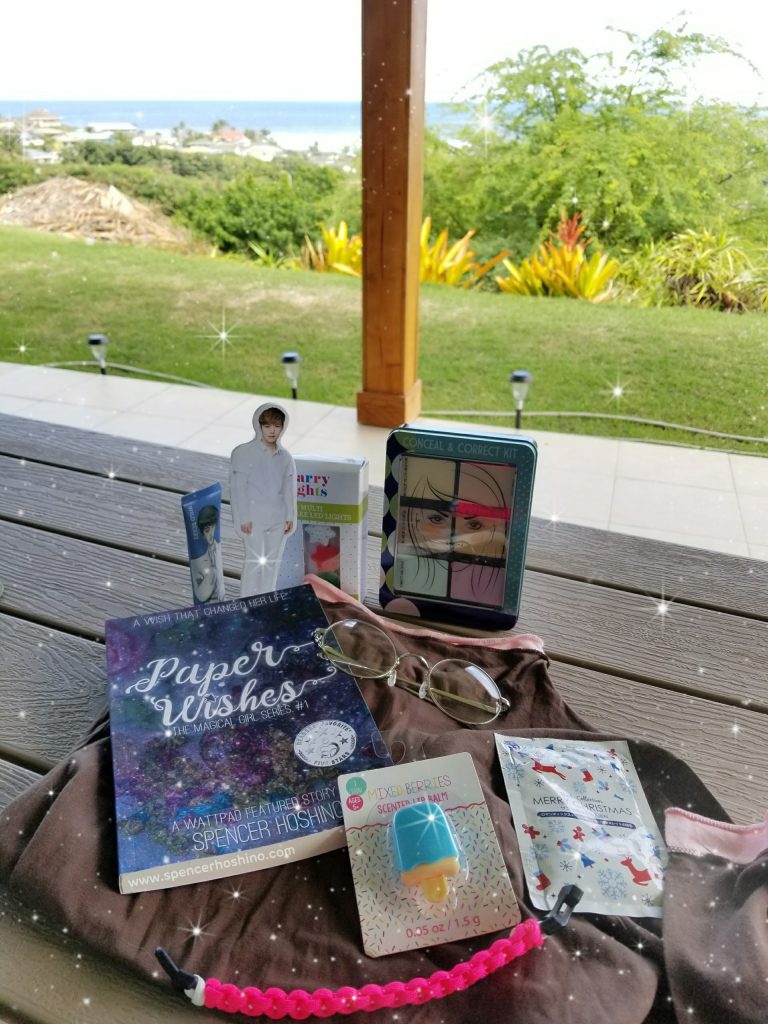 The prizes are:
A signed copy of Paper Wishes
Hard Candy Conceal and Correct Kit
Nature Republic EXO D.O. wild berry hand cream
Mixed berries scented lip balm
Merry Christmas Bath Collection
Starry Lights Snowflake LED lights
Nature Republic EXO Lay standee
Peace on Earth brown & pink long-sleeved top (size large)
Pink & white glow-in-the-dark paracord bracelet (7.5 inches)
Round glasses
Use the Rafflecopter link/widget (depending on whether you're on mobile or desktop) below to enter! Bear in mind that because the giveaway ends on December 20th, it's very unlikely that it will reach you by Christmas, even if I send it out the same day. (Sorry! 😅)
Legalities and Stuff:
This giveaway ends on Wednesday, December 20, 2017 at midnight (-10:00 Hawaii-Aleutian time). Everyone is welcome to enter. This giveaway is open to both residents of the United States (including Hawaii, Alaska, and U.S. Territories) and International readers. If you are under the age of 18 you will need to receive permission from your parents because I will need your address in order to send out your prize(s). The prize(s) will be shipped within 7 days. If the winner does not reply to me (I will contact you by e-mail from hello [at] spencerhoshino [dot] com) within 48-hours with their mailing address, a new winner will be selected. If you won a previous giveaway you still qualify to enter current and future giveaways.