Paper Wishes (The Magical Girl Series, #1)
Paper Wishes (The Magical Girl Series, #1) is available as an ebook on Tapas!
Original Publication Dates: 2/14/2016 (KDP ebook), 03/01/2016 (First Edition paperback)
2nd Edition Publication Dates: 02/14/2017 (Second Edition paperback & Tapas.io ebook)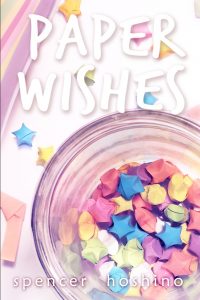 Synopsis
While mourning the loss of her mother, Vilvian makes a wish that will change her life.

"There is a belief that with each origami star folded, a falling star is saved. After folding 365 stars while mourning the loss of her mother, Vilvian makes a wish that will change her life forever.

Enter Nox Bright – the handsome and mysterious guy who has been haunting Vilvian's dreams. She can barely believe it when he walks into her homeroom near the end of the school year. Has she gone crazy or is it possible that wishes really do come true?"
---
What are people saying about Paper Wishes?
Reviewed By Tara Bishop for Readers' Favorite
Review Rating: 5 Stars



"Paper Wishes, The Magical Girl Series Volume 1 is a young adult romantic fantasy centered on a grieving young woman named Vilvian. She is mourning the loss of her mother, who left her with a Japanese fable that for every origami star you fold, it saves a falling star. Then, if you fold three hundred and sixty-five stars, you can make a wish and it will come true. Vilvian learns to trust in her own heart and what true friendship really means. Not only that; she learns to trust herself. She has all the power she needs to help heal her broken heart and to find happiness. After all, she is a "Magical Girl." Enter Nox Bright, the mysterious and handsome boy who has all the qualities of her heart's desires. How is he so perfect for Vilvian? Come along with these amazing characters as they discover their life's paths and see what a small seed of faith can do.
Spencer Hoshino's Paper Wishes left me mesmerized! I gave it 5 stars all around. This young adult romantic fantasy is what all girls dream of…a love created just for them. Spencer Hoshino's writing was beautiful and so descriptive. I can just see the "jar of stars" sitting there, glittering, waiting to be wished upon by Vilv. Hoshino touched my own heart personally by naming the main character Nox. Muggles everywhere would appreciate it. Each character is very well developed. Hoshino writes so well that you feel as if Vilv and her friends are your own and that Ann is your personal enemy. The plot development kept me on my toes and I could not put Paper Wishes down until I knew what would happen with Nox, Vilv and Kai.
I loved the paper star back story as well. It is such an endearing tale that one can only wish it to be true. I recommend this novella to young adults plus older readers. It is a moral book and teaches kindness and respect for yourself and others. It truly is a sweetly romantic book. I cannot wait to read more about Nox, Vilv, Kia and Nikki. I hope Spencer Hoshino has more up his very talented writer's sleeve and that he won't make us wait too long. Paper Wishes is an emotional ride of loss, love, enemies, and true friendship, with a touch of magic. Wonderful, beautiful and an amazing original concept for a book. I applaud Hoshino and cannot give a single criticism. I enjoyed Paper Wishes from the beginning to its beautiful ending!"
"Paper Wishes is as sweet as its name. The characters, all adorable (spoilers: except one), have a fairly tale quality to them. This is one of those books where things go the way you hope they will. Spencer can turn shopping for an outfit or eating Japanese food into a magical moment." – Kathryn Berla, Author of La Casa 758 (@BerlaKathryn)
"… you have talent. It should be known!" – Celinda (@Belldandy245)
"I really don't want to spoil it for anyone that wants to read it. But if you're debating about it, I say read it. Seriously. Read it." – Jezabel
"I remembered the feeling of falling in love." – Rod
"I've never read a romance novel, let alone a teen one (as a 24-year-old), but this one kept me flipping the pages when I started. I had a soft spot for Kai." – Vi Vi
"PAPER WISHES is a beautiful piece of writing of a girl getting out of her grief. Your writing is beautiful and almost poetic in a way. I love how you use Japanese words throughout the book without sounding forced—very natural! I love how you've created a diverse set of characters. It's nice to see Asian characters since I don't often see Asians in books I read…" – Chen Yan Chang
Blog Reviews
Book Club Recommendation of Paper Wishes posted March 3, 2016
Review of Paper Wishes by Blogity Blogger posted April 14, 2016.
Review of Paper Wishes by Tara Bishop for Readers' Favorite posted April 26, 2016.
Review of Paper Wishes by Tyra Anne posted May 16, 2016. (Entire blog site has been deleted. 🙁 )
Review of Paper Wishes by J.M. Sullivan posted January 17, 2017.
Review of Paper Wishes by The Quirky Book Nerd posted July 2, 2017
Review of Paper Wishes by Books and Beauties posted September 20, 2017.
Wattpad Reviews
Review of Paper Wishes by xxLianneLimxx posted May 25, 2017.
Highest Ranking on Wattpad: #1 in Teen Fiction
Highest Ranking on Amazon: #44 in Kindle Store > Kindle eBooks > Children's eBooks > Fairy Tales, Folk Tales & Myths > Collections
---
Media
Below is the playlist for Paper Wishes! I tried to put it in the best order possible. 🙂 There are songs in English, Japanese, and Korean. The non-English videos should have subtitles. 🙂
My Dream Cast