Hello, friends! 🙂 Happy Summer! This is my second (doesn't include giveaways I hosted for other people) and biggest giveaway of the year (so far?!). To enter, you'll need to use the Rafflecopter widget below. I may be adding more entry methods and prizes in the future, but… my personal favorite entry methods are following me on Twitter and using a key to unlock a chapter of Paper Wishes on Tapas! 😉
I'll be keeping tabs on entries, so don't try to cheat! 😛 Any entries that don't fully qualify will be deleted, so please be sure to follow the instructions to a "T". 😀 The winner will be randomly generated by Rafflecopter.  I love you all and wish you the best of luck with entering!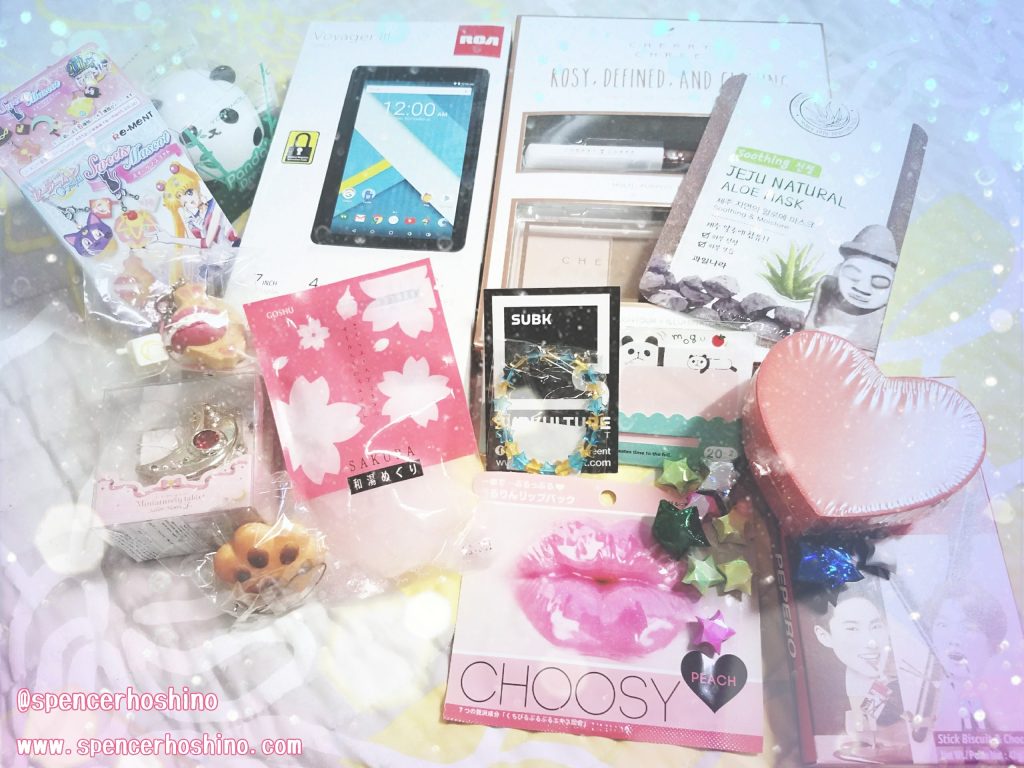 Prizes
Cherry Chree Rosy, Defined, And Glowing Easy 3-Step Contour Palette
RCA Voyager III Android 6.0 Tablet
Tony Moly Panda's Dream Hand Cream
Jeju Natural Aloe Mask
Yuru Animal Volume Big Memo Notebook
Lotte Chocolate Pepero (with EXO members on it! Hehe!)
Sailor Moon Sweets Mascot Re-ment
Sailor Moon Miniaturely Tablet 3
Red Heart Paper Heart Box w/ Origami Stars
SUBK Subculture Entertainment Sticker
Teal & Orange Star Bracelet
Sakura Bath Salts
Choosy Peach Lip Mask
Squishy Paw Strap
What are you waiting for? Enter now! 🙂
Legalities and Stuff:
This giveaway ends on Monday, July 31, 2017 at midnight (-10:00 Hawaii-Aleutian time). Everyone is welcome to enter. This giveaway is open to both residents of the United States (including Hawaii, Alaska, and U.S. Territories) and International readers. If you are under the age of 18 you will need to receive permission from your parents because I will need your address in order to send out your prize(s). The prize(s) will be shipped within 7 days. If the winner does not reply to me (I will contact you by e-mail from hello [at] spencerhoshino [dot] com) within 48-hours with their mailing address, a new winner will be selected. If you won a previous giveaway you still qualify to enter current and future giveaways.