Why ichiban giveaway? 一番 or "ichiban" literally means number one… and today, June 22, 2016, Paper Wishes reached #1 in Teen Fiction on Wattpad!
I wouldn't even have known about this huge milestone if it wasn't for the amazing Wattpad user @AuthorZ93! Thank you, thank you, thank you for sending me that congratulatory message! Without you, I definitely would have missed out on this. (; ̄Д ̄) (I'm just so darned grateful for my Lucky Stars! What would I do without you guys?!)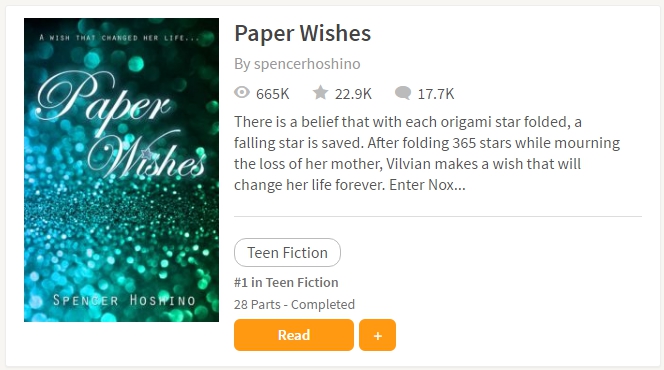 Thank you so much to everyone who has read, commented, and starred Paper Wishes on Wattpad. Thank you to my precious readers who have taken the time to read Paper Wishes multiple times, who have created beautiful fan art, and recommended my book to their friends. Bless you guys so, so much for all of your support. Never in my wildest dreams did I ever think that anyone would want to read something I wrote, and now I have a book with nearly 700k reads that reached #1 in Teen Fiction THANKS TO ALL OF YOU. You are all so patient (when it takes me forever to reply to comments and messages), understanding (when I can't accept read requests–I'm really sorry about this!), and supportive (the random messages you send and messages you leave on my profile really brighten my day). You are all such a blessing. Whew, I'm getting weirdly emotional here…
Anyway, to commemorate this big event I put together a giveaway because that's sort of my thing. Lol. This giveaway is very "magical girl" themed, as you may notice from the prizes. (*゚▽゚*) To enter the giveaway use the Rafflecopter widget below or you can enter using the "Giveaway" tab on Facebook! (≧◡≦)
Prizes:
Madoka Magica manga vol 1 (Retail Value: $13)
Card Captor Sakura random figure (Retail Value: ?? This item was sponsored by my 妹, also known as little sister.)
Card Captor Sakura Kero plush keychain (Retail Value: ?? This item was also sponsored by my 妹, also known as little sister.)
Striped Blouse, free size which is equivalent to US Medium (Retail Value: $10)
Poppin' Cookin Ramen Set (Retail Value: $10) (Side note: I included this because so many people commented on Vilv & Kai eating gyoza and ramen! I thought this would be a fun treat!)
Angel Wings Cord Holder (Retail Value: $5)
Total Value: $38 (not inclusive of the Card Captor Sakura items!)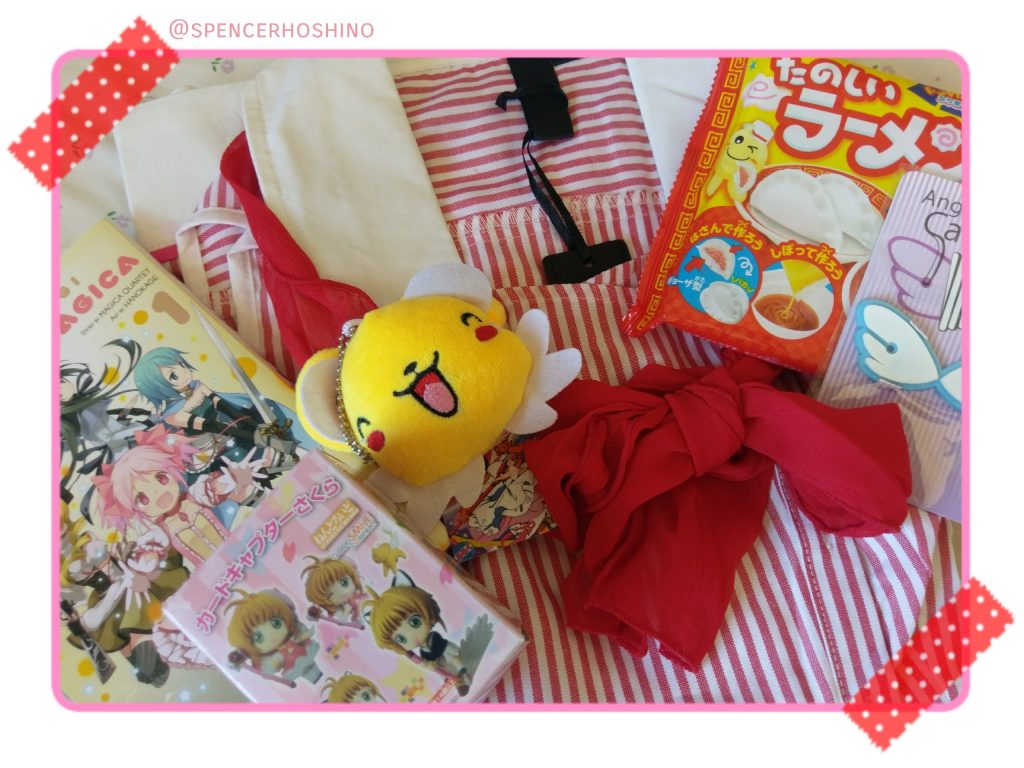 Legalities and Stuff:
This giveaway ends on Wednesday, July 13, 2016 at midnight (-10:00 Hawaii-Aleutian time). Everyone is welcome to enter. This giveaway is open to both residents of the United States (including Hawaii, Alaska, and U.S. Territories) and International readers. If you are under the age of 18 you will need to receive permission from your parents because I will need your address in order to send out your prize(s). The prize(s) will be shipped within 7 days. If the winner does not reply to me (I will contact you by e-mail from hello [at] spencerhoshino [dot] com) within 48-hours with their mailing address, a new winner will be selected. If you won a previous giveaway you still qualify to enter current and future giveaways.