Paper Wishes 1st Anniversary on Tapas
On February 14, 2017 (my birthday!) Paper Wishes was released on Tapas. With its one year anniversary coming up, I thought it would be a fun time to do a giveaway! To enter the giveaway, all you have to do is:
Purchase keys & unlock chapters on Tapas (Please e-mail a screenshot to hello [at] spencerhoshino [dot] com to qualify!)
Re-tweet the giveaway from a non-private account on Twitter
You don't have to do all three to enter, but doing so will give you more entries! The winner will be picked using a random number generator.
Thank you in advance to everyone entering! Good luck! ( ´ ∀ `)ノ~ ♡
Giveaway Details
The prize set for the giveaway is valued at about $82. This giveaway is open domestically, within the United States, including its territories.
Prizes:
* The Japanese sailor dress is a size XL and has the following measurements: Length:87cm/34.25″.bust:98cm/38.58″.sleeve length:25cm/9.84″.shoulder:36cm/14.17″ Because Asian sizes run smaller than American sizes, this is probably closer to an American M/L.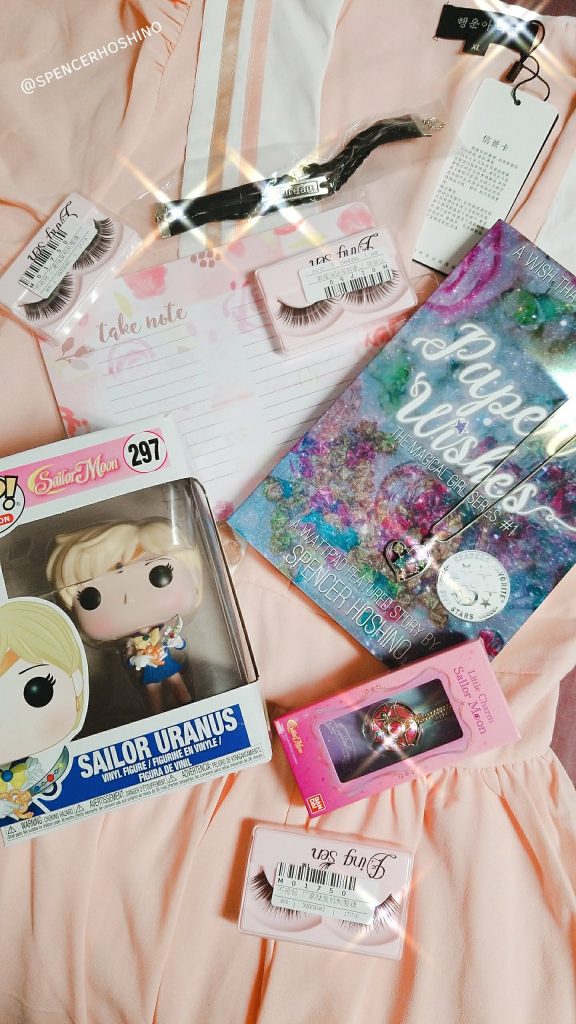 Legalities and Stuff:
This giveaway ends on Monday, February 19, 2018, at midnight (-10:00 Hawaii-Aleutian time). Everyone is welcome to enter. This giveaway is open to residents of the United States (including Hawaii, Alaska, and U.S. Territories). If you are under the age of 18 you will need to receive permission from your parents because I will need your address in order to send out your prize(s). The prize(s) will be shipped within 7 days. If the winner does not reply to me (I will contact you by e-mail from hello [at] spencerhoshino [dot] com) within 48-hours with their mailing address, a new winner will be selected. If you won a previous giveaway you still qualify to enter current and future giveaways.